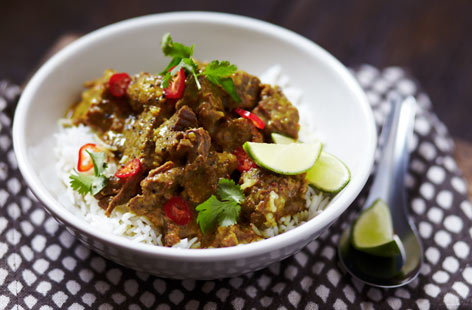 MALAYSIAN BEEF CURRY
This is a very versatile meat dish which can easily be adapted to suit all different tastes by adding more or less of the chilli's to create different strength curries. There is sugar listed but you can omit this for a tangier flavour or add just half the amount for a more rounded taste. This recipe will serve 4 but can be easily and accurately doubled if you will need more than this.
WHAT YOU WILL NEED
380g beef steak, cut this into thick slices. Trim as much fat off the meat as possible
115g of shallots
2 cloves of garlic
10 dried red chilli's, adapt the amount of chilli's used in this dish to suit your own tastes and the preference of your guests remembering to tone it down to almost nothing for children
3 thick slices of fresh ginger
3 stalks of lemon grass, roughly chopped and gently bashed to help release the flavour
3g of cumin seeds
2g of coriander seeds
3g of fennel seeds, you do not have to use these and I have not been able to get fennel seeds on a number of occasions and the curry does not suffer for it at all.
4 whole nutmeg, thinly chopped into small cubes
10ml of olive oil
10g white sugar, you can use less or even none to give a more bitter curry
125g shredded coconut
3 – 4 whole cloves
3 cinnamon sticks
375ml tinned coconut milk
140ml cold water
WHAT YOU WILL NEED TO DO
Heat the shredded coconut in a dry wok until it has turned a golden brown colour. Make sure you stir this continuously because coconut burns very quickly. Pour this quickly into a bowl as soon as it begins to brown and leave to stand.
Blend the shallots, ginger, chilli's, garlic and lemon grass to a thick paste using your food processor. This will not take long so make sure you watch it because you want it to retain a nice thick consistency.
Grind the fennel (if you are using it), cumin, nutmeg and coriander. Fry the shallot paste in a little bit of your olive oil for a few minutes and then add the spices you have just ground. Cook this for about 4 minutes making sure you stir it continuously.
Place your beef steaks in the wok and cook over a medium heat until the meat is browned, this should take about 5 minutes. Stir in the coconut milk, shredded coconut that you browned earlier, cloves, sugar, cinnamon stick, water and coconut milk.Bring it to the boil and immediately lower the heat.
Simmer uncovered for about an hour, or until the meat is cooked through. I would suggest you test the meat at 5 minute intervals when 50 minutes has passed as you do not want it to go rubbery.
~~~~~~ ~~~~~~ ~~~~~~
Don't be put off by the long list of ingredients, this is an extremely simple curry to make and once you have bought these items you can store them in the cupboard for the next time you make curry. Most recipes you find will tend to use the same base of herbs and spices, so although it might appear daunting at first you are simply adding to your store cupboard – and creating delicious meals from scratch on a more regular basis.
Image Credit
Source: